Agent Info:
Mobile: 050-2836142
Office: 097143699742
Enquiry
We are open Sunday to Thursday, from 9am to 6pm, feel free to contact us using the details on the left, or the contact form form the main navigation.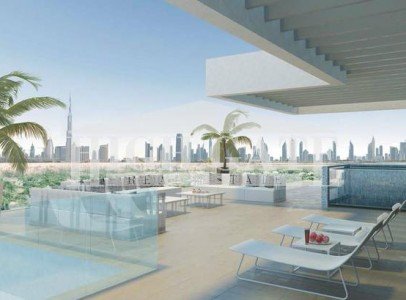 Al Barari – Ashjar (1 BR)
Reference No. AB1bA-3
2142 Sq Ft
1 Beds
1 Garage
2 Baths
Unfurnished
NoMortgage
If you are looking for a luxurious and modern apartment in peaceful secluded community then HighGate Real Estate will help you find your dream house or your ideal investment.
Available on sale at an unbeatable price in the newest project Ashjar, an off-plan residential community from Al Barari. With most units already sold this is a rare opportunity for you to live in a collection of residences surrounded by lush forest landscape and unparalleled refinement.
This one bedroom apartment in "extrovert" style is built over a massive 2,142 sqft with modern styling and spacious private terraces overlooking forest, lake, and a panoramic downtown Dubai skyline view in the distance. Homes in Ashjar have been carefully designed to maximize the use of space of open plan living. Fully stylish equipped kitchens come as standard, however can be partitioned and customized to suit individual tastes.
Originally priced at AED 3,722,315 the unit is offered at only 8% premium. The owner has paid 10% already, a genuine and motivated seller.
The uniqueness of Al Barari is it's location. Once the Project is ready for handover, a new highway direct to Downtown Burj Khalifa will be completed too with Dubai Mall in close proximity.
Each collection will share underground parking, a pool featuring a lazy river, children's play area and the famous landscaped gardens. Residents will also be able to access facilities of Seventh Heaven, including dining venues, floating market, creative hub and cultural hub.
Additional facilities incorporate Body Language, which includes a gym, pool, tennis courts and yoga classes. The Farm and the upcoming heart & Soul Spa.
Payment is made through escrow, where money will be deposited into an account and released according to completion of each phase. The payment plan is all in linked to the construction timeline.
10% paid
10% in July'14
10% in December'14
10% in May'15
15% in September'15
15% in January'16
15% in May'16
15% on Completion
Call us today to speak to our Specialist: Farid : 050 2836142 (BRN#9375) / Yasmin : 050 5252179 (BRN#10235)
Gateway to all your property requirements, HighGate!
---